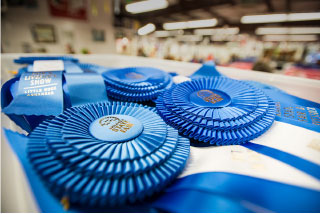 FIRE MARSHALL REGULATIONS
PROHIBITED ITEMS / ACTIONS IN BARNS
The Fire Marshall has directed that all streets must be clear on move-in days.
Any unattended vehicle will be towed immediately without notice at the owner's expense
PROHIBITED ITEMS / ACTIONS IN ALL BARNS LOCATED ON
ARKANSAS STATE FAIRGROUNDS
Tents in Barns
Hot Plates
Microwaves
Televisions
Slow Cookers
Smoking
Butt fans
Refrigerators are only allowed if proper electrical guidelines have been met and the refrigerator is positioned on a sturdy, well-elevated piece of wood or blocks.
Refrigerators sitting on straw or hay will be immediately removed from the
barn.
NO tarps or covered stalls are allowed in any Livestock Barn at any time. If you choose to sleep in the barn at night, you are not allowed to cover any stall or pen even at night. All bedding must be completely out of sight no later than 6 AM. Exhibit areas must be kept neat and clean at all times. NO microwaves, coffeepots, hotplates, televisions, slow cookers, etc. are allowed in the barns. Exhibitors are encouraged to utilize the Exhibitor Eating Areas provided by the Arkansas State Fair. Please refer to maps posted during Fair.